About The Croft.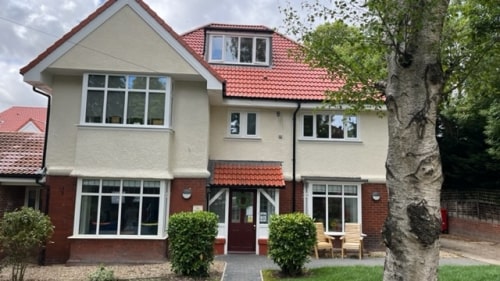 In the communal areas we have a choice of lounges all newly refurbished along with a family / activities room. 
The dining room is spacious with a lot of natural light making mealtimes an enjoyable experience, even more so with the expertise of our 2 chefs. All meals are of high quality and home cooked and with our rotating menu system in operation for grater choice. In addition special diets are also catered for and if preferred residents can dine in their own rooms or lounges.
The Croft is also equipped with an eight person lift to ensure all residents have easy access to all areas of the Home. It has been designed for use by the elderly to maximise independence within the home..
Our easy bathing facilities are also designed with the elderly in mind. We have one bath with hoist and two wet rooms to allow easy access showering. Our residents know they have the comfort of a safe and secure bathing experience with the support of the care team.
Also provided we offer an excellent choice of regular entertainment and events. During the year with have garden parties, shopping trips. Other activities and entertainment organised are bingo, gentle exercise, dominos, sing- alongs and visits from entertainers. We celebrate all special days such as Christmas, Easter, New years and special birthdays.   Well behaved pets are also welcome to visit.
Here at The Croft we promote well-being among our residents and organise frequent visits to the home by Chiropodists, hairdressers, dentists and opticians to ensure that every aspect of our residents care is catered for.
WE have a very low turn over of staff, all our staff are experienced and all have NVQ qualifications, first aid certificates and caring for the elderly certificates. We pride ourselves on the fact that our staff turnover is extremely low and this ensures that our quality of care is never compromised.
The Croft welcomes ladies and gentlemen from the age of 65yrs plus whether on a residential, residential EMI care, or respite. Whatever kind of care you are considering for yourself or your loved one we are always happy to offer a days free trial. This gives the potential resident a chance to enjoy a day at The Croft , to talk to the other residents and meet our friendly staff.